Parental Involvement Matters!
Parental Involvement Matters!
28 November 2017 (by admin)
Please click link for more information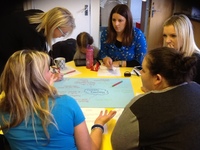 Thank you so much to all of the Parent Council representatives that attended our first meeting on 10th November. The parent representatives met to discuss four key issues in school linked to our school development plan. The suggestions on how to move the school forward were imaginative and extremely valuable, we have already put some of them in place. Thank you again for attending!