Sports News!
Sports News!
8 February 2018 (by admin)
Click here for full story.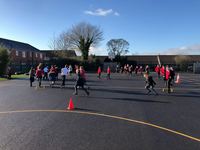 Positive Play at Lunchtimes – Lunchtimes at Mersey Drive are filled with fun! Pupils are encouraged to keep fit and healthy, each year group the opportunity to participate in a range of exciting individual and team sports. Ed Start also offer a range of after school clubs which are free to pupils . This term the children are enjoying taking part in Badminton Club and on Fridays after school Family Fitness Club, which helps bring children and their families together in fun team building sessions. Let the school office know if you'd like to come along!