Crazy Christmas Jumper Day
Crazy Christmas Jumper Day
30 November 2018 (by krenzulli)
Click on the link above for more details.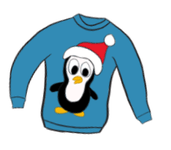 Mersey Drive's 'Crazy Christmas Jumper Day' will take place on Friday 14th December — the same day as we will be having our Christmas Dinner.
All children are invited to wear a festive jumper for a donation of £1 for our Mersey Drive School Fund. All monies raised will be spent on Mersey Drive children.